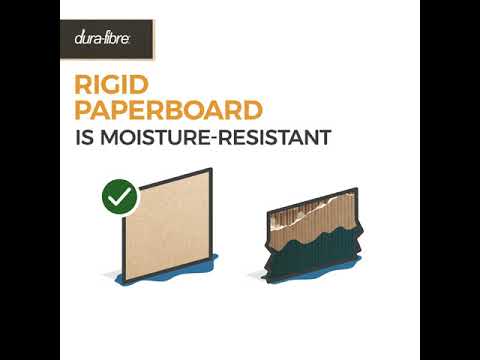 Design Laminated Paperboard for Custom Applications
Whether you need custom paperboard products for display, handling, storage, shipping or other uses, tap Dura-Fibre's experienced custom design team. From custom industrial crates, to custom folding cartons, custom industrial packaging and custom shipping containers, Dura-Fibre's design and engineering team can help you create custom paperboard products that meet their every specification.
Expert design team. Custom Solutions.
Paperboard Manufacturing: Capabilities for Custom Specifications
Dura-Fibre manufacturing technology includes one-of-a-kind equipment that supports the manufacture of large-scale custom projects. These paperboard manufacturing capabilities paired with custom printing, coating and die-cutting capabilities, allow us to create custom paperboard products to meet your specifications. Best of all, Dura-Fibre custom paperboard products offer performance and protection for applications that require more durability than corrugated cardboard and more cost-effective, eco-friendly solutions than wood or plastic. Among Dura-Fibre's customization capabilities:
Laminating Paperboard
Up to 420 inches long and 97 inches wide
Up to 250 pt in caliper
Roll-to-sheet and roll-to-roll
Combining up to seven plies from multiple substrates
In-line die-cutting and scoring
Die-cutting Paperboard
Flatbed and rotary die-cutting
Ability to precision cut and/or score
Unique patterns and shapes
Coating Paperboard
Functional top coats applied in-line
Full range of pre-coated liners
Printing/Slotting
Two color in-house
Pre-printed liners
Comparison Chart
| | | | | |
| --- | --- | --- | --- | --- |
| | Dura-Fibre Rigid Paperboard | Wood | Corrugated | Plastic |
| Cost | | | | |
| Recyclability | | | | |
| Strength | | | | |
| Inventory space savings | | | | |
| Freight cost savings | | | | |
| Exempt from ISPM-15 Import/export rules | | | | |
Custom Paperboard Products: Market Applications
Dura-Fibre custom paperboard products are used in a wide range of industries, including:
Appliances
Specialty Manufacturing
Building Products
Crating
Folding Cartons
Signage
Containers
Corner and Roll Protection
Specialty Applications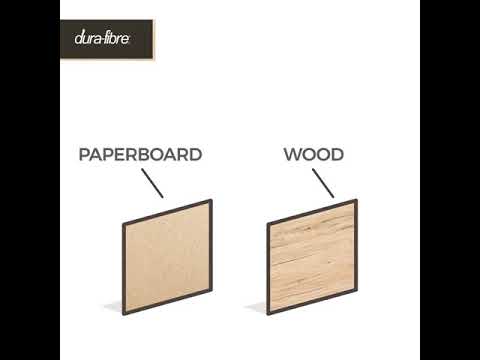 Custom Paperboard Products: Features
Laminated paperboard provides a durable, cost-effective alternative to wood and plastic display, handling, storage and shipping products. Among the features:
Lightweight, durable alternative
Impact-resistant laminated paperboard construction
Laminated paperboard provides background for brand impact
Custom Paperboard Products: Benefits
Lightweight construction and fold-flat options reduce shipping costs
Heavy-duty laminated paperboard rivals durability of traditional corrugated cardboard material
Provides unsurpassed freeze/thaw performance
Fully recyclable
High-impact graphics captivate consumers and induce product trial
Protects heavy or fragile products
Requires fewer required packaging materials
Appliance Components
The technological sophistication of today's appliances requires components created with precision cuts and durable construction, like those found in our fiberboard solutions. Why choose Dura-Fibre appliance components?
Save money by replacing costly metal, plastic and wood components
Ensure a consistent size, caliper and count
Minimizes die and tooling costs
Choose from standard and customized choices
Understanding Laminated Paperboard
Dura-Fibre custom paperboard products are manufactured by gluing together multiple plies of top-quality, high-strength paper to make thick, strong, heavy-duty laminated paperboard.
Because Dura-Fibre serves customers in a wide range of industries, we use a multi-step process to make certain custom paperboard products suit both product and shipping needs.
Requirement gathering: To create customer paperboard products, our experienced team first works to understand your goals and needs.
Design: We design your products using top-quality, high-strength paper to make thick, strong, heavy-duty laminated paperboard with no wasted space or material.
In-house testing: Our in-house design lab tests your products for strength, durability and water resistance to ensure it holds up to end-use requirements.
Samples: Once our testing is complete, we'll provide you with samples, allowing you to see, touch and try your new customer paperboard product in person.
Client testing: When you've approved the samples, we'll provide you with a final version, which you can test in the field to make certain it meets specifications.
Production: After you've tested your product, we'll work with you on production and shipping arrangements, based on your short- and long-term needs.
Don't just take our word for it…
"A unique partnership. A unique product." Aerospace Supplier
Consistency is what we need and Dura-Fibre is very consistent. Appliance Manufacturer
The wallboard shim is a great product.  Our contractors love them. Building Products Distributor
"We want to be special in the market and your product allows us to look the part." Custom Brick Manufacturer
Looking for custom paperboard products?
Let's talk.